Drugs Subculture Sites
Always 420 - Marijuana Forum - American based forum
UK420 - links & lists - UK based Forum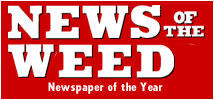 Marijuana Travel Guide, With Marijuana Prices & Information Around The World!
www.skunk.co.uk - all things to do with skunk
Pure THC - marijuana directory
Questions on marijuana from all over the world are answered by Dr Hemp - UK Internet pot agony uncle.
Ecstasy Org - the late Nick Saunders website, now staffed by volunteers, includes ecstasy pill testing results and interactive DIY testing site.
Terence McKenna land (home page of psychedelic/shamanic guru)
Weeds Links - Personal UK site with various drugs and counterculture links, audiovisual etc.
Urban 75 - Independent UK Webzine: drugs, eco-activism, underground techno, arts and football. "These pages aren't intended to be the definitive drugs information service, but as a straight talking, bullshit free resource for those interested in finding out more about drugs. We aim to provide responsible information about the drugs commonly available, tell you what effects they might have on you and offer constructive help and advice if things go wrong. We won't be telling you that all drugs are cool nor are we going to deliver any moral lectures or tell you that drugs are the work of Satan - we're just interested in giving people the facts and letting them make up their own minds".
Smokers version of Yahoo - Our goal at YaHooka is to unite the marijuana internet community, and to become an on-line demonstration that we are in every neighborhood, state and country, of every vocation, age, social group and color. By creating The Guide to Marijuana on the Internet we plan on creating a resource that will enable you to easily find the information you need from the most reliable and accurate sites. Our concept includes not just creating one link to each website, but to use our categories to point to various areas in each site that apply to a specific topic.
At the Friendly Stranger we are dedicated to reshaping the way society THINKS about the cannabis plant. Through KNOWLEDGE & UNDERSTANDING, we believe the spreading of the TRUTH will bring an end to Cannabis prohibition.
Clubbers.com - dance scene and dance drug info.
Clubbing.com - New site aiming to be the definitive site for all things clubbing. Pretty looking site with loads of info
SORTED - Dance oriented site, they say - this is NOT digital culture, it's just a bunch of people putting stuff on the web.
Tash's free festival/travellers archive
Delerium Records - Freak Emporium - source of underground/psychedelic music and publications.
PureTHC - Head shop, Smart shop and Seed shop. A huge range of high quality PureTHC products.
Air420 - Suppliers of Cannabis Vaporizers
Grow High - bongs, pipes, skins, scales, books, grinders and other cannabis related items
Elephantos - online smartshop and headshop from Amsterdam
Herb-A-List - Herbal high versions of illegal drugs, detox from heroin, alcohol and cocaine with Tabernanthe Iboga plus healthy herbs and spices.
Weedcity - bongs 'n' stuff
Headsite - bongs 'n' stuff
Monkey Magic - mushroom grow kits
Highland - Independent UK manufacturer of hemp rolling papers and smoking products.
RIPS (rolling papers) - This Web site was designed to give you an insight into the vast array of products which RIPS International have to offer. Cruise around our Web site at your leisure but be sure to take a look at our essential guide to Festivals, Clubs and Travel.
Glastonbury- Nuff said
All pot seeds - Dutch seeds and helpdesk
Seed Bank - seeds and headshop supplies
Dutch Seeds - free grow helpdesk