Some articles have not been moved to our new site yet.
As a result you have been redirected to our old site.
If you wish to return to our new site -
click here.
Solvent Abuse - Initiation and Frequency of Use
Initiation to Solvent Abuse
The peak age of initiation to use of solvents is 14, with most first trying solvents between ages 12 and 18, although 10% first experiment after age 18.
Fig 1 - Solvent Initiation/Age curves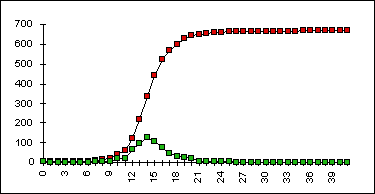 Amalgamated data from IDMU Regular Users Surveys collected in 1994, 1997 & 1998
Total sample size n=3623
Key - Red data represents cumulative numbers of respondents ever having used solvents by the stated age
Green data represents the number of respondents reporting first having used solvents at the stated age.
Prevalence and Frequency of Use
In all the IDMU surveys, consistently, the vast majority of drug users report never having used solvents and of those who have, the majority have used experimentally (defined as on less than 10 occasions) or to have stopped using solvents altogether.
The majority of non-solvent users state they would never consider trying solvents, and solvents generally have a highly negative rating (overall - 1.49/10) by users of illicit drugs.
Frequency of Solvent Use among Illicit Drug Users

Frequency of use

1984

1994

1997

1998

Non/ex-users

89.6%

89.4%

89.4%

89.5%

Experimental

6.1%

8.0%

6.9%

8.2%

Occasional

1.3%

2.3%

3.3%

2.2%

Weekly

0.2%

0.2%

0.1%

0%

Daily

0%

0.3%

0.3%

0.2%

Mean rating

(0-10)

n/a

1.50

1.82

1.24

Sample size

607

1333

1136

1153
Fig 2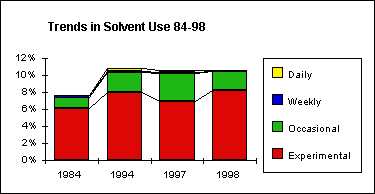 Reference Source:
Atha MJ, Blanchard S & Davis S (1999) - Regular Users I-III - Solvents Initiation & Frequency of Use.