Some articles have not been moved to our new site yet.
As a result you have been redirected to our old site.
If you wish to return to our new site -
click here
.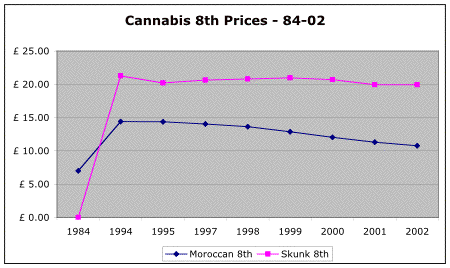 At 8th of an ounce (3.5 grams) prices for Moroccan resin have slowly been falling, whilst prices for Skunk originally rose slightly, but remain relatively stable.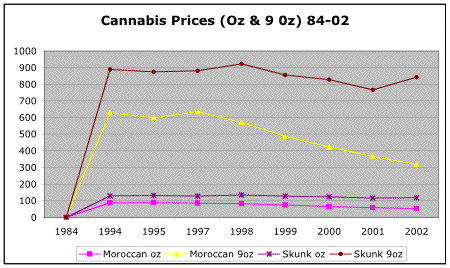 At Ounce prices both Moroccan & Skunk have remained fairly stable, with a slight decrease year on year.
At 9oz prices for Moroccan have dropped dramatically, to almost half the original price it was 5 years ago. This may be due to Skunk increasing its market share, to a level where it is now more commonly used than resin.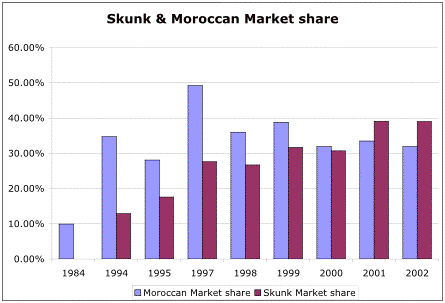 Cannabis Resin (e.g. soap-bar), Bush (imported/compressed with seeds), Skunk (female flowering tops, no seeds)
Please note: We have NO evidence that cannabis is sold as gram deals, yet some UK police forces still quote valuations of cannabis as £5-£10 per gram!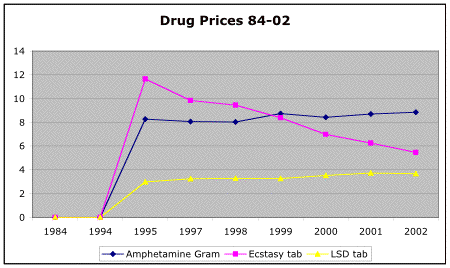 Single Ecstasy purchase prices have dropped over the last 8 years (from £11 per tab to £4.75 per tab). Whilst LSD & Amphetamine have seen slight increases in cost, mainly due to the prevalence of new designer drugs e.g. Ecstasy, taking a larger share of the market.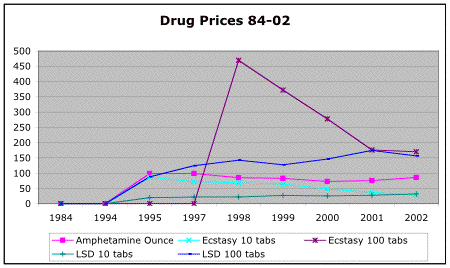 Ecstasy sold in units of 10 tabs has seen a slight price drop, yet at 100 tabs has seen a dramatic price drop since 1998, as the popularity of the drug took off.
Please Note: it is not uncommon for regular clubbers to purchase more than 10 tabs per time, as their clubbing habits are such that a weekend clubbing starts on Friday afternoon until Monday am.
LSD and Amphetamine have remained stable in prices except large quantities of LSD (100 tabs) which has increased to match the cost of 100 tabs of Ecstasy.
Cocaine has remained stable with slight increases and decreases year on year. Crack although remaining fairly stable in price, as a relatively new form of drug of preference, is competing with Heroin users for its market share. Thus Heroin prices are decreasing each year at gram level.
Heroin - £10 bag, 1g or 1/8oz+-the key question is not how much a £10 bag costs, but how much heroin is found in a £10 bag, this has risen from 80-120mg 5-10 years ago to 150mg-250mg today.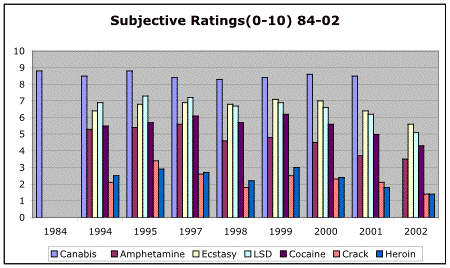 Ratings show attitude towards drugs and as such Cannabis gets the highest rating. Next are LSD, Ecstasy & Cocaine. Over the years the ratings for Crack & Heroin, although always low ratings, have reduced even further.
Please note:- On some charts the data is not available for 84, 94, 95. Therefore the charts jump up to a level at the start. This is not an increase, merely when data became available. All prices quoted are national average.
All contents of this web site & any links to other sites etc, is for educational & research purposes. IDMU at no time seeks to encourage illegal activities. All sections of this site and its contents are protected under copyright laws. ©
IDMU Ltd 1994 - 2008
Website Design by
Freelance Graphics