Some articles have not been moved to our new site yet.
As a result you have been redirected to our old site.
If you wish to return to our new site -
click here
.
Media Sites
TV Oportunities - Media requests for drug users to interview
Other Sites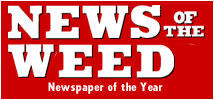 A blog about all things cannabis related
CC Newz - Cannabis tabloid for the Cannabis Community.
Red Eye Express - email
Weed World - cannabis magazine
Knockabout Comics - pulisher & distributor
Undercurrents - produce number of cannabis videos and short pieces worked on a number of drug issues.
The Gleaner - Jamaica Information - Go Jamaica.com, Jamaica's portal to the world.
UK Newspapers/magazines
UK Newspaper Directory (Yahoo)
The Times (UK) Online edition
Daily/Sunday Mirror (UK)
Guardian/Observer (UK)
UK Broadcast media
All Out Productions - Media Peroduction Company, makers of Grannie's a Junkie (Radio 5)
Roger Bolton Productions - maker of TV documentaries and discussion programmes - now part of Flame Group
Media search engines
MAPNEWS drugs newsclippings service (e-mails of press reports on drugs from UK, USA (mostly US), Canada, Australia and other countries). A very busy mailing list, expect 20-100 postings per day if a subscriber. Covers most articles in Guardian, Times, Telegraph, Independent & Scotsman newspapers. Volunteer "newshawks" and editors always needed.
All contents of this web site & any links to other sites etc, is for educational & research purposes. IDMU at no time seeks to encourage illegal activities. All sections of this site and its contents are protected under copyright laws. ©
IDMU Ltd 1994 - 2008
Website Design by
Freelance Graphics